Day 6 Sunday, June 3, 2007
Cairo
We Return to Cairo
Our last day together, breakfast was at 8:00 on the Sonesta Moon Goddess. We said goodbye to our new friends on the boat and at the airport. We went to Luxor airport… on the way our van drove on a beautiful road with bougainvillea along each side. We got to the airport and Hamdy our agent got us through luggage and ticketing. We had a short flight back to Cairo where Sherif met us and delivered us safely back to our hotel. We were in our rooms by 2:00 PM. After a full day of learning in the heat of Luxor, we had little energy to explore more of Cairo (especially on our own). We had lunch by the pool and relaxed for a few hours updating photos and the website. That building is the Feisal Ilsamic Bank of Egypt. The tablet-like "columns" in the bottom half repeat a text from the Koran about saving money.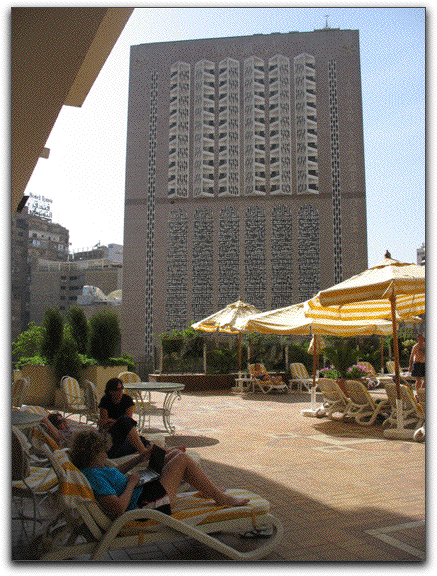 Jeff and Bill got very hard massages in the hotel. We had our "final dinner" in the Morrocan restaurant on the 26th floor of the hotel. Before dark you can see the pyramids in the distance off to the right of where we're standing (when it's clear) and the Nile river just behind us. We arrived at 8:00 and sat enjoying the delicious food and good company. We were the only people there, even though the wait-staff told us that it is full every night. A belly dance performance begins at 11:00, but we left about 15 minutes before that.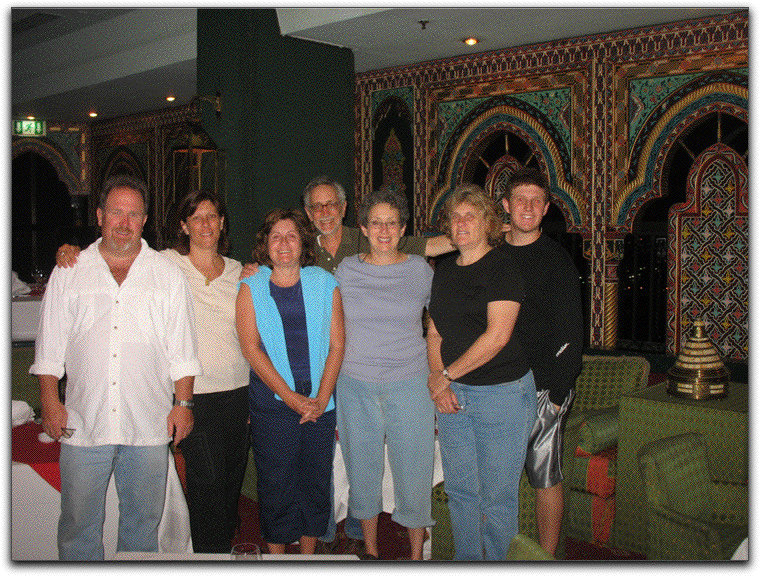 Everybody departs Cairo at different times… beginning with Bill and Sheryl at 1:30 in the AM and ending with Mark and Debbie at 10:30 AM. Our agent Sherif is helping each set of us back and forth from the hotel to the airport.
Not surprisingly we did not find Gideon Bibles in our hotel rooms. However, we were interested to see a sticker in one of the desk drawers that pointed toward Mecca and the Qibla.


The direction is out through the middle panel of glass here: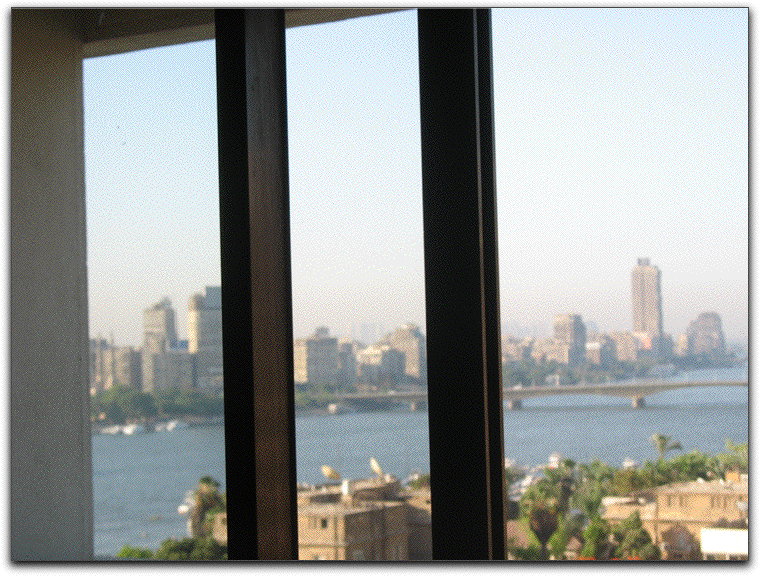 By Bill Rowling (additional info by MH)