Belchite, Wednesday, June 20, 2007
The Summer Equinox
Pilgrimages
Sometimes we complain about "tourists," who may have "overrun" a place. But they, as we, are on some kind of a quest seeking a spot that, at least at one time, had great meaning… or perhaps they, as we, seek a kind of knowledge available only by being present in a particular locale. Much of this travel in Spain has been, thereby, a form of pilgrimage. There are others in Spain who are also on more formal pilgrimages following Road to Santiago de Compostela. We, on the other hand have sought out the places where Jews lived before the Expulsion of 1492. One particular day of our travels was an especially personal pilgrimage related to the Spanish Civil War and the young man Mark was named for.
What does it mean to be named after someone who died for a cause?
As Mark has noted elsewhere, his middle name "Samuel" recalls the son of a rabbi, Rabbi Leigh Levinger, who died in Spain's Civil War in 1937, ten years before Mark was born and seventy years before this writing. Mark has known of the connection between himself and Samuel Harold Levinger all his life, but only in 2001, when reading Robert A. Rosenstone's book Crusade of the Left (Pegasus, 1969) did he learn something about Sam's death. The more Mark researched, the more he wanted to be where Sam had been and had received the injuries that led to his death.
What was it like for this twenty year old who grew up in Columbus, Ohio, a child of highly educated and literate parents to travel to Spain to fight in the war with the Abraham Lincoln Battalion of the International Brigades? He had lived in a cultured city on the flat Ohio plain and crossed the Atlantic on an ocean liner to France, then by railroad over the Pyrenees, through Catalonia to Barcelona, Valencia, then Albacete and finally to the front. Our route this day took us directly from Barcelona, north into what looked more like the mountains of California than Ohio. The drive was long and… appropriate for the date, we crossed the Greenwich median (noted on the road). Even on the new Autovia it was not an easy drive. Once we got off the superhighway the roads passed through a few towns, narrowing after each until they became more like farming villages than towns, and the road became more of a paved trail.
It's hard to imagine what those young Americans, a year younger than our son Noam now, felt as they encountered a strange country. Most of them did not even know the language. And, the Jews fighting for the country that had expelled and murdered their ancestors five hundred years earlier… were they there as "internationalists" or were they aware of the irony of their presence?
Sam did not write much about his inner thoughts and feelings, but he did write:
I realized then that I would be taking part in one of the world's most remarkable events, that tens of thousands of men, not poets and dreamers, but ordinary workers, farmers and students just like me should throw their lives in the scale for a foreign country. These men who were joining the desperate battle against Fascism were in earnest when they said, "Conquer or die!"
More:
This was typical central Spain - rough hills, gray and dotted with rocks, with here and there a bright perfectly flat valley pierced by a small stream.
As Debbie and I approached Belchite the soil turned deeper red. The cliffs in the distance resembled those of Sedona, Arizona.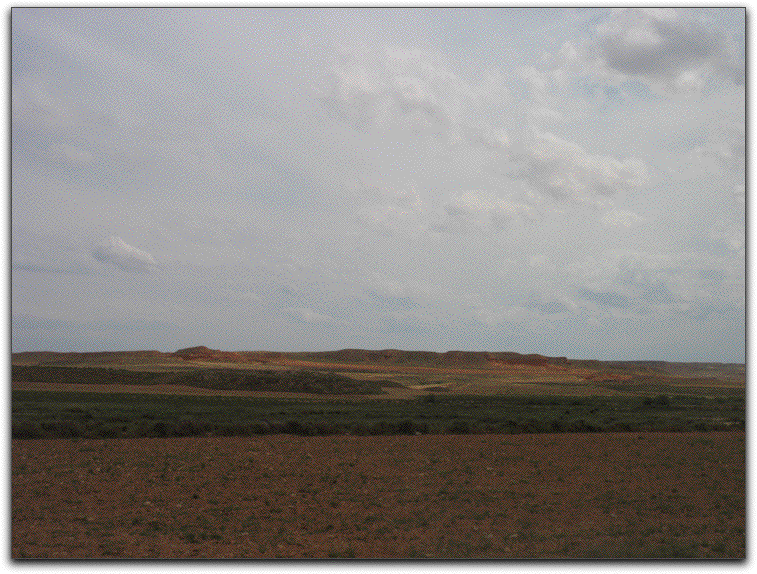 The earth was plowed and old olive groves in addition to well tended grape vines covered many of the hills. The town sits high on a hill overlooking a tremendously rich valley.
The forty kilometer road from Belchite, while fairly new, nearly parallels an older road that cuts nearly straight down the hill from town through the valley to Zaragoza.
It Can Be a Lonely Planet
The five hundred page guidebook we have includes one paragraph about the town:
The twin towns of Belchite are perhaps the most eloquent reminders of the destruction wrought in the Spanish Civil War. The ruins of the old town, which have been replaced by an adjacent new village, stand as a silent memorial to a brutal tug-o-war for possession between Republican and Nationalist forces during the war.
Unlike many spots in Spain, few tourists travel to Belchite, as the tiny roads and lack of signage suggest. We wonder how many Jews, if any.
Finding Belchite
When we arrived we found the new city. Some driving lead us to the old town.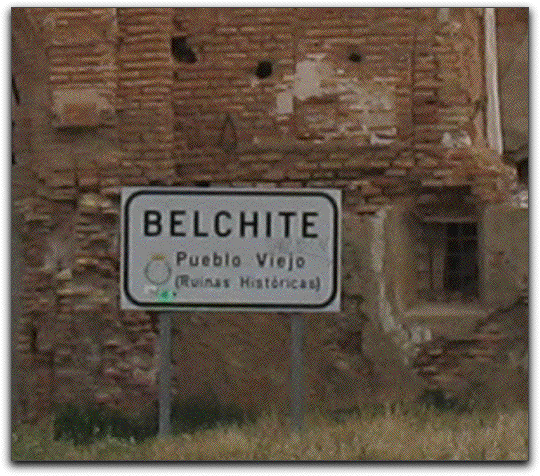 Mark had read that the battle had occurred in front of a church



What must it have been like, as a rabbi's son, to seek refuge in a church? Going in: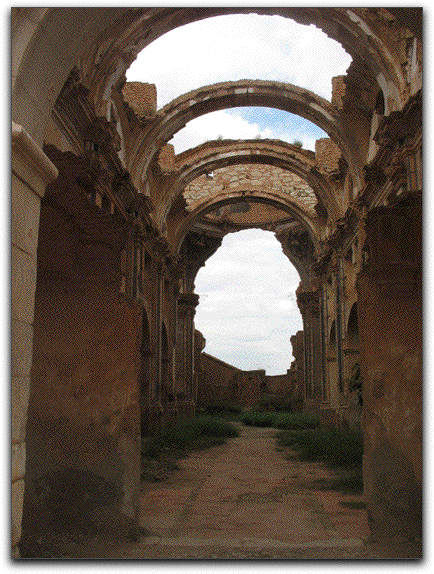 A fig tree now grows in a nook off to the side.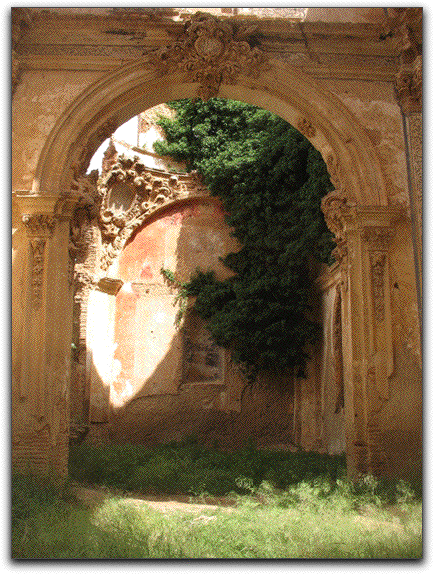 And the battle without: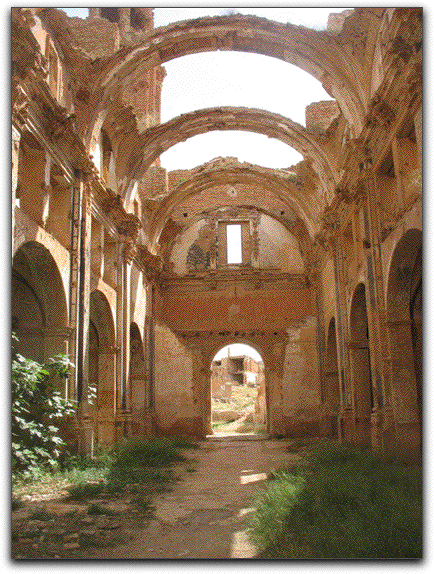 Debbie stayed in the van and recited Kaddish:
Let the glory of God be enthusiastically praised,
Let God's great name be hallowed, in the world whose creation God willed.
May the Divine rule soon prevail,

in our own day
our own lives
and the life of all Israel
and in all the world

and let us say: Amen.
Let God's great name be blessed for ever and ever.
Let the name of the Holy One of blessing, be

glorified
exalted
and honored

though God is beyond all the

praises
songs
and adorations that we can utter

and let us say: Amen.
For us and for all Israel, and for all the world, may the blessing of peace and the promise of life come true, and let us say: Amen.
May the One who causes peace to reign in the high heavens, let peace descend on us, on all Israel, and all the world, and let us say: Amen.
The panoramic photos ("photoshopped" together in Nisus Writer Classic again!) were taken from about 30 meters in front of the church.
The Battle
During the battle at Belchite Sam was hit in both legs. He wrote to his parents in what turned out to be his final dispatch, full of bravado or denial:
But I'll be rested in a month, and my Commander Amrle says I've done my share at the front. Do you advise that I come home or stay and take a truck driver's job?
Sam died a few weeks later in a hospital in Madrid. Mark has not, yet, been able to determine his exact date of death, nor the location of his remains. With the help of Alba Toscano in Valencia he has contacted
Archivo General de la Guerra Civil Española
c/Gibraltar 2, 37088 Salamanca
Información sobre los Soldados Judíos en las Brigadas Internacionales
Mark called when in Salamanca and wrote an email has not yet received a response.
Another passage of Sam's writing:
Comrades, the battle is bloody and the war is long;
Still let us climb the gray hill and charge the guns,
Pressing with lean bayonets towards the slope beyond.
---
The Spanish Civil War as Metaphor
It was in Spain that men learned that one can be right and still be beaten, that force can vanquish spirit, that there are times when courage is not its own reward. It is this, without doubt, which explains why so many men throughout the world regard the Spanish drama as a personal tragedy.

Albert Camus
from the preface to L'Espagne Libre (Calmann-levy, Paris, 1945)

---

During the Israel-Lebanon war of the summer of 2006, the author of an article in an Israeli journal suggested that this war is to "the future global war" what the Spanish Civil War was to World War II. The loss of Spain to the fascists paved the way for the war, and this time we can't lose.

Or, You Can Ignore It

We were a little non-plussed to see absolutely no signage about the battle in or near town. The only thing hinting that this was a site of a significant event was the sign indicating the "Old City (Historic Ruins)". Uh, historic ruins caused by…? Not far from that sign is an area with a bit of a parking space and a "roundabout" that. As is usual for roundabouts this one has something in its center. We parked and Mark went out to check. Nothing related to the Spanish Civil War. Instead:

It turned out to be a map of the location of the sun in relation to the town. At least we were there on a meaningful day!