Portrait of the Day
Week 4
---
Monday, June 25, 2007
While in Valencia we noticed that the cooking gas line was not working. A wonderful Italian neighbor tried to fix it, but not successfully. Knowing we could not cook, he kindly invited us to join him and his 10 year old son for dinner.
We did not stay in Valencia to fix it, as on Sunday, the dealer would be closed. So, arriving in the beautiful resort of Altea we asked about the local VW dealer only to learn that he handles only sales and cars. The dealership in the next town, Alacante was closed for the Festival of San Juan. We took advantage of the "day off" to do laundry, use the Internet (at a local resort hotel with wireless (there was a charge, but it's good for 24 hours)) and then we took our photo at about 8:30 PM, looking at the opposite side of the bay from the photo the previous day.
Tuesday, June 26, 2007
Following a sweet visit to the Valor chocolate museum in Villajoiosa (a few kilometers from Altea), we continued on to Granada. After settling in we walked from our campsite at the outer edge of town to the center where we took our photo in one of the fountained plazas near the Cathedral.
Wednesday, June 27, 2007
Avigail's Birthday
We spent the day exploring the Alhambra. Granada is known for being a center for pomegranate production. Here we are in front of an unusual variety with much poofier flowers than those we've seen before.
Thursday, June 28, 2007
Leaving Granada for Córdoba, we headed northeast a bit to visit a couple of towns that do not appear on our Michelin map. Víznar and Afalcar are the places where Federico García Lorca lived and was assassinated. On our drive from Altea to Granada we made a short stop in the town of Lorca… but it has nothing to do with the poet.
We visited the twenty year old, yet nearly abandoned Garcia Lorca park in the hills above Afalcar, then headed northwest along route N432. We pulled off the road at Alcalá for lunch and to buy cherries from a roadside stand in a little grove. Remember we are from San Diego, named for San Diego de Alcalá. The Michelin map indicates eight towns called "Alcalá." We were struck that seemingly 95% of the area all along the N432 between Granada and Córdoba created a seemingly infinite patchwork of olive groves. Nonetheless, when we took our photo about 30 kilometers outside of Córdoba… everything was illuminated in a glowing field of sunflowers.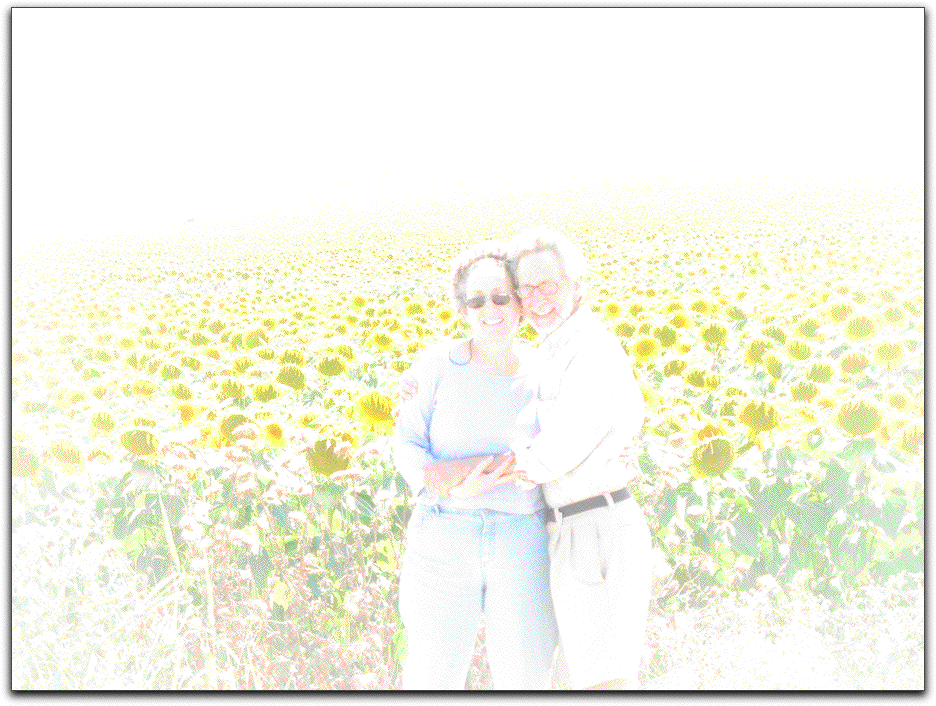 Friday, June 29, 2007
Córdoba. Our campsite location at the municipal campgrounds in a comfortable middle class suburb a bit outside the modern downtown of the city enabled us to walk easily to downtown. We took care of a couple of errands and found our way to the Judería. We searched for Plaza Judah ha Levy. We couldn't find it because we were in it. The only indication was a bar by the name of Judah ha Levy. We wandered around a bit until we got back to the area and the plaza of Moses Maimonides. At least there you can find a bronze statue of the man.
Saturday, June 30, 2007
We spent most of Shabbat relaxing around the pool at the Córdoba municipal campsite: reading, swimming and resting. The official tourist information material we had indicated that the Mezquita (i.e. mosque) Cathedral was open until 7:30. However when we arrived, after a brief, but highly personalized, visit to the one year old Casa de Sefarad, we learned that the last tickets for the day are sold at 6:00 pm! So we spent the evening using the free wireless at the Maimonides hotel across the street from the cathedral to update the website and check our email. How does offering free wireless fit into Maimonides' 8 levels of charity? We searched for a decent restaurant with vegetarian options at a square we had traversed many times before, even just the night before looking for a veggie mid-Eastern restaurant mentioned in our tour books that no longer exists. We've had that experience several times, unfortunately. Mark set up the camera on a cafe table while the man in the background watched what we were doing.
Sunday, July 1, 2007
We had missed the Mezquita yesterday so we checked out of our campsite this morning and drove around the city to the far side of the Guadalquivir River where we parked the van in some shade. The Roman Bridge into Córdoba was closed for renovations, so we walked along the river to a new bridge, the Miraflores to cross over to the Mezquita. We took our photo with the Mezquita and the Sierra Morena mountains in the background.


---
Portraits of the Day
Week 1 || Week 2 || Week 3 || Week 5 || Week 6
---

---
---
© Mark Hurvitz