Bilbao, Friday, June 8, 2007
I have never studied the topography of Spain, so, arriving by airplane into Madrid I did not know that we were on a plain fairly high up. The air in Madrid had that feel of being "mountain air".

Our altitude became clear about an hour south of Santander as we began a rather steep and continuous descent down a new highway cut along what seem to be granite mountains covered in lush green foliage, still dripping water from earlier rains.

Gertrude aka GPS led us as close as she could (then we followed the little signs) to a campsite about a hundred meters from a tiny fog-filled bay called Virgin of the Sea. After dinner we took a lovely walk near the edges of the cliffs and turned in, as it finally got dark after 11:00 pm. We were one of two couples in little vans at the site.

Bilbao is a much bigger city than Mark had imagined it. Mark had known of the city since his teen years from Lotte Lenya singing the Kurt Weill and Bertholt Brecht song "Bill's Bauhaus in Bilbao" from their opera Happy End.
That Museum
Of course now, the Guggenheim Foundation and Frank Gehry have made it famous in a different way
We luckily parked our van directly across from the museum. It was a bit pricey, however, being able to have the van in a very public space is always a worthwhile safety measure. That green lawn space between the van and the museum is where the Metro runs.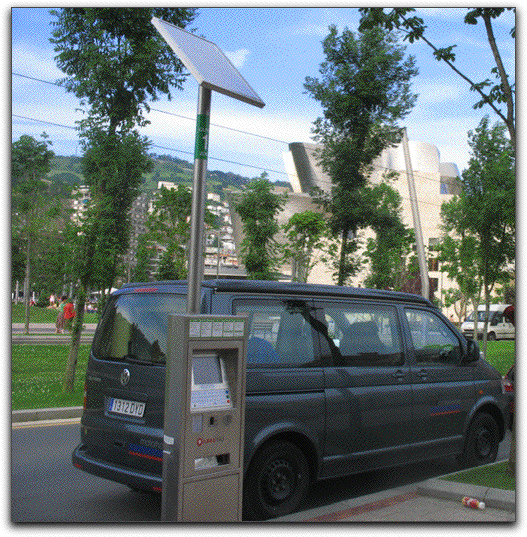 We explored the museum (most people took photos of their reflections in the tulips…)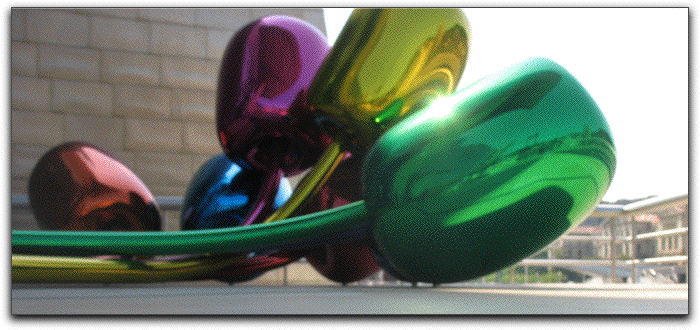 which we enjoyed very much, both the architecture and the art, including pieces by Jim Dine, Richard Serra (who seems to have an argument with Frank Gehry about whether or not architecture can be sculpture), and the special exhibit of Anselm Kiefer. Kiefer has created paintings on the theme of Chevirat-ha-Kelim which we found particularly interesting, given their Kabbalistic themes.
But we had additional interests in town.
The nice woman at the ticket counter of the museum taught us how to say "thank you" in Euskera, the Basque language: "Eskerrik Osko" and she also told me where to get my new beret. Then the helpful woman at Info booth just outside told us about chocolate and that there is no Jewish community (nor any other Jewish presence) in Bilbao. She also let us know how to find good camping in the area.
Hot Chocolate
We took the metro to the old town and found nearly everything closed for siesta. We did, however, get a little chocolate while we waited. Spanish hot chocolate is a lot more like hot pudding than a drink. We were told later that the Spaniards add rice flour to thicken the drink. We haven't figured out why both the Spaniards and French serve the drink and bring additional sugar!


We enjoyed the chocolate not at Bill's Bauhaus, but at a tiny spot across from the cathedral.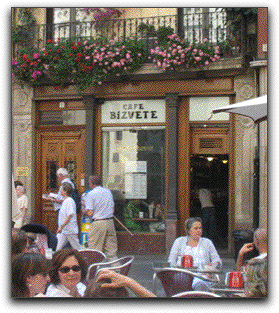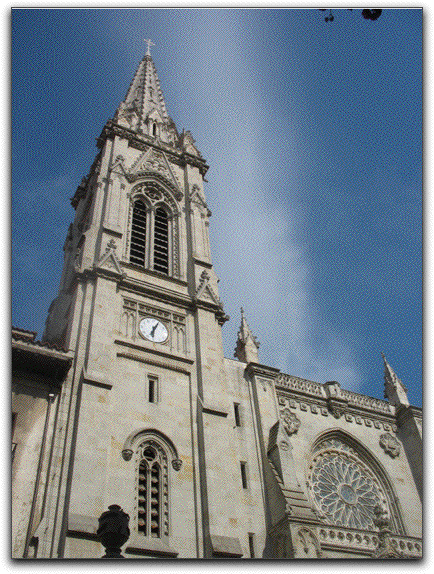 Mark has a way of seeing "Jewish" things even when they are not there, as in Paris last year. What is a men's a store called "My Lord" (in Hebrew) doing in the old Bilbao?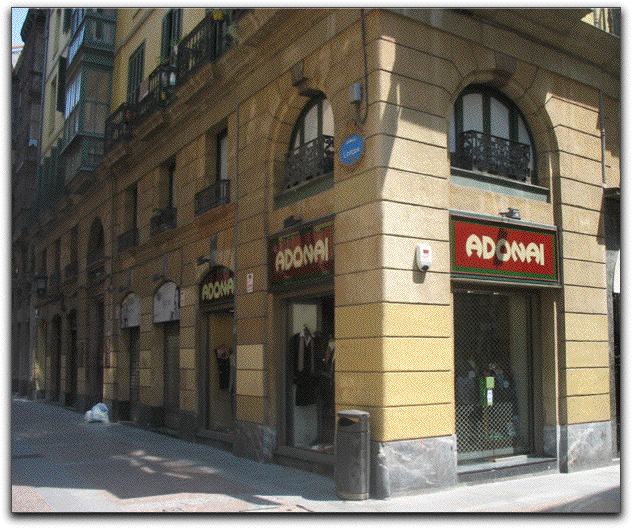 Mark's Beret
Mark returned to the hat store after siesta where he learned that the only acceptable color is black. Red is reserved for the police. The proprietor fit him and showed him the subtle differences in how the hat is worn in Bilbao: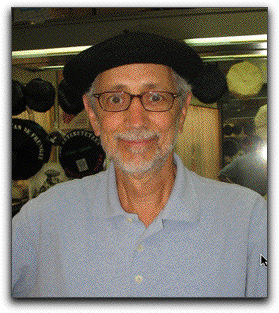 Donostia (San Sebastian):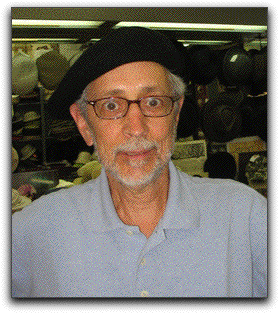 and France: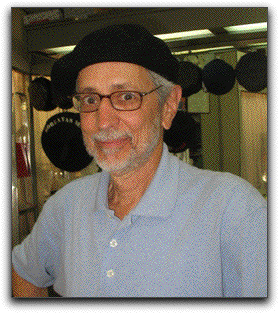 I was also told that only police wear red berets, and that there's some other meaning to a green and blue one. That was not a problem for me, as I have only worn a black beret since 1966.
Chocolate
Walking back across the river, both Debbie and I remarked at how the scene reminded us of walking in Karlovy Vary, something about the river flanked by hilly housing


We went exploring for real chocolate. A few people pointed us in one general direction, but nobody had the actual name of a shop. We had found one very fancy shop Alma in the old city that also had a store in the new city… next door to an older, established chocolatier where they identify the local speciality as being one that has a particular shape that matches the sidewalk tiles of the city.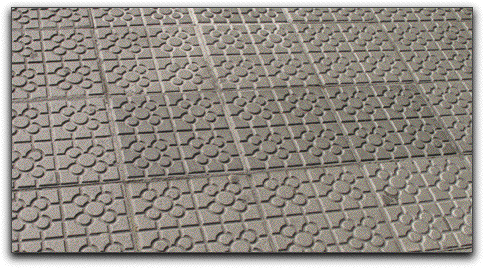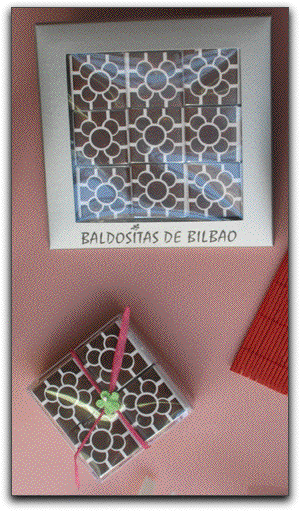 As usual, we're also in search for WiFi Internet connections. Debbie settled in at the lobby of the old Carlton hotel for a while (where they told us there was no Internet access except in the guests' rooms, but Debbie was able to connect with no problem!), as I went back to put more money in the meter. When you put money into the meters where we parked, you need to identify your vehicle (by entering the license plate). There is a maximum amount of time per day that your vehicle can park using that meter. I did not know (or understand this) when we first settled in, but, when I arrived back at the van I learned that we were very close to reaching that maximum. I put in the permitted amount more and raced back to get Debbie. I was, however able to get an interesting "parting" shot of the museum, from within Bilbao,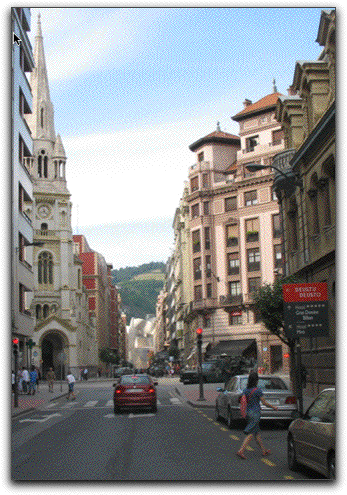 and find another little chocolate shop that had a book we were not familiar with.

Leaving Bilbao
Gertrude was able to get us out of the city with minimal difficulty. (I don't always understand what she means by "take the first exit from the roundabout".) My error got us a very nice view of the Calatrava pedestrian bridge and the museum from the "other" side of the river. We then followed Gerdy's directions and the little signs to a nice campsite overlooking the bay in Sopelana… in time to enjoy the sunset of the oncoming Shabbat.